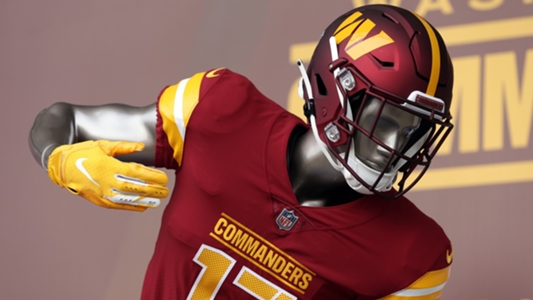 Washington picks Commanders as new team name
The organization announced its new team name in a big reveal on Wednesday.
After spending two years on the Washington football team, Wednesday morning the franchise announced its new name would be the Washington Commanders.
Team president Jason Wright and head coach Ron Rivera said during the 20-month nomination process they sought to incorporate a military element because of the connection to the nation's capital.
"As an organization, we are thrilled to come together and rise together under our new identity while honoring our local roots and what it means to represent the nation's capital," said team owner, Dan Snyder, in a statement.
"As we kick off our 90th season, it's important for our organization and our fans to honor our past traditions, our history, our heritage and the greats who have come before us.
"We continue to honor and represent Burgundy and Gold while ushering in a new era in Washington.
"Today may mark the first day for commanders in Washington, but we are and always will be Washington."
Washington's search for a new name began in July 2020 following protests across the United States following the killing of George Floyd in Minnesota.
Snyder then began having discussions with NFL Commissioner Rodger about changing the name, which some considered racist and offensive.
Following the rebranding, the franchise dropped all Native American imagery and references, but will retain the burgundy and gold colors as shown on their social media accounts.