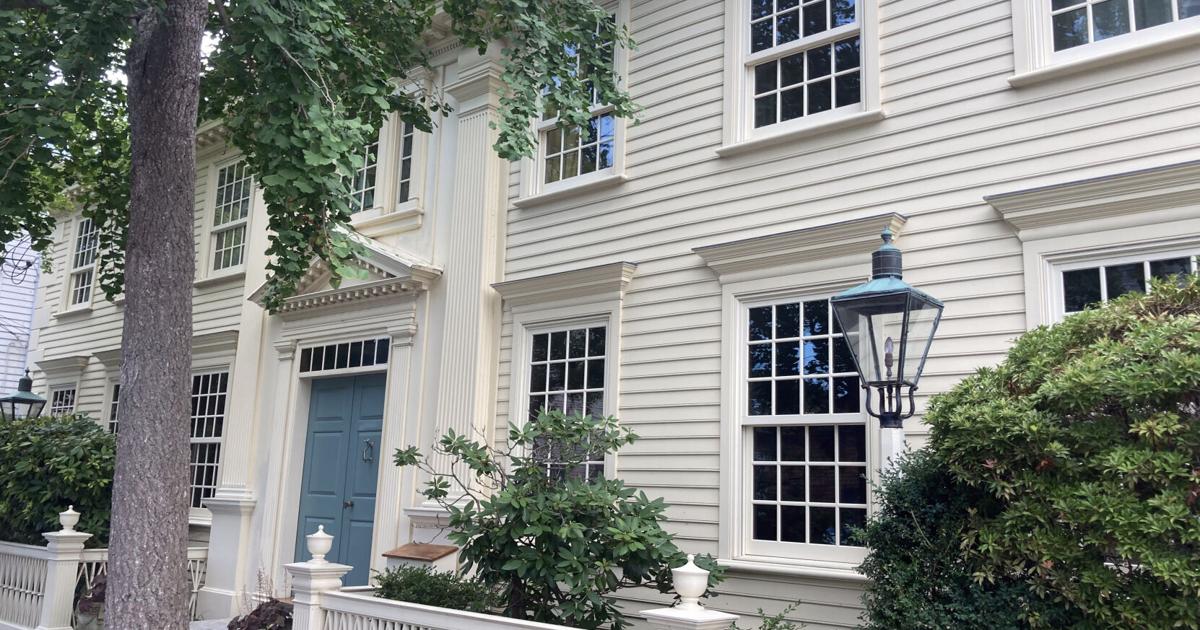 Postscripts: '80s Real Estate Tycoon Who Owned 'White Caps' Found Jesus After Stock Market Crash | Guest columns
Writing a few weeks ago about architect Eric Kebbon and the medieval-style castle he built in the 1930s on the eastern end of Fishers Island, called "White Caps", I inadvertently omitted to mention one of the relatively recent owners of the turret. -and-gable edifice, which included the unscrupulous business partner of late Beatles member George Harrison.
The guy I failed to list was Jonathan Barres, then of Stonington, once one of the most prominent property partnership moguls in this area during the property boom of the 1980s.
Several years before Barres died, at age 58 in 2008, I traveled to Florida, where he lived with his wife, Pauline, and six children, in Ormond Beach, to write about the end of Barres' life and his unreserved devotion to Jesus.
Barres, who grew up in Ormond Beach, the son of an ordained Congregational minister with a degree from Yale Divinity School, was solidly built and an excellent athlete, a champion wrestler at Salisbury School in Litchfield County, in Connecticut, and at the University of Florida.
Pauline Denis grew up in Norwich, the daughter of French Canadians who moved to Daytona Beach, Florida when she was 6, and it was in Florida that she met Barres, who grew up nearby.
Jonathan and Pauline Barres came to the north after earning a degree in architecture and a master's degree in construction management. He worked for Stone and Webster in New London, then became a stockbroker with Advest and later Paine and Webber.
Along with a friend, David Kleeman, from the prep school, and other members of the Barres family, Barres began to set up investment partnerships to buy several apartment complexes and other properties, taking advantage of the real estate boom of the early 80s.
To manage the holdings, he and Kleeman formed Coastal Management, with offices in Mystic, alongside their other company, Barres, Kleeman Inc.
When I visited Barres in Florida in 2005, he said his boom-era personal fortune was about $25 million.
When the housing bubble burst in the late 1980s and 1990s, the Barres empire, along with the banks that had granted too many risky mortgages, collapsed and Barres lost most of his fortune. He declared bankruptcy in 2002 and left Stonington for Florida. What remained of his assets here was a restored historic 18th century house on Water Street in the borough of Stonington, which he eventually sold.
John Fiore, a close friend and business associate and, like Barres, a major benefactor of Pine Point School, Stonington's private day school, helped Barres deal with banks and do financial exercises.
Barres said his final years at Stonington buried him in despair, not just financially.
"I was spiritually dead," he told me in 2005. "When the tumor hit, I was almost suicidal."
A benign tumor the size of a grapefruit was discovered at the base of his skull, wrapped around his brainstem, in 2001. It was the same year his 94-year-old mother died.
"I was all excited about making money. From the age of 12, all I wanted to do was make money. I had boats and houses, a castle on Fishers Island. I had a lot of partners, a lot of different businesses, and I had nothing. I went through hell. I went through all the fallout of the 1980s. And when the banks did bankruptcy, they called your loans, and we had hundreds of millions of loans.
The castle – White Caps – was built for the Simmons family, then the country's leading mattress makers, including the signature Beauty Rest. The castle is now owned by the William L. Hanley family of Greenwich, Connecticut, and Fishers Island.
Barres, in 2005, had undergone innovative treatment for the tumor at Massachusetts General Hospital's Northeast Proton Therapy Center – a month of daily treatments designed to bombard the edges of the tumor with precise radiation therapy to kill any cell growth, but also limit the danger to Barres' ocular and cognitive abilities. He was also on a course of anti-epileptic drugs.
Yet he insisted his salvation was born again, which coincided with his mother's death and the discovery of the tumor. He was then 51 years old.
"My failure, the total loss of everything, was the beginning of victory," he told me. "I totally gave in. I connected with the Lord in a big way. He took me out of everything. I tried to make money my god… I never spent time with God. Thanks to Jesus, I went from defeat to eternal victory. I am on a spiritual journey.
When I visited, Barres was a member of the Calvary Christian Center, a Pentecostal church in Ormond Beach that was contemporary in design and built to accommodate 1,000 worshippers. The whole Barres family was involved in the church and Jonathan, a member of the 100 voice church choir, spent at least four hours in church every Sunday and, as others have told me, he was known to cry while singing.
According to his own account and that of the church pastor, he had been quite generous to the Calvary Christian Center.
He said he dedicated much of his day and his being to Jesus, communing with Jesus from the time he woke up well before dawn, and even asking his Savior for advice on real estate transactions. to conclude. His home then was a $3 million, 12,000 square foot beachfront home with four cars, including a BMW, a Lincoln and a Lexus SUV.
"When the Lord didn't claim me during my fits and tumor, I said, 'God, what do you want me to do?' I started looking for it, very passionately," Barres said. "The fruit of what I'm doing with the Lord is that my marriage is better than it's ever been, my kids aren't going to the mall or taking drugs, everyone is healthy. I want give them everything I have.
When we visited, he had gone three months without taking his post-tumor anti-epileptic medication, putting, as he said, his health in the hands of the Lord.
He died three years later, surrounded by his family, in Ormond Beach.
Steven Slosberg lives in Stonington and can be reached at [email protected]