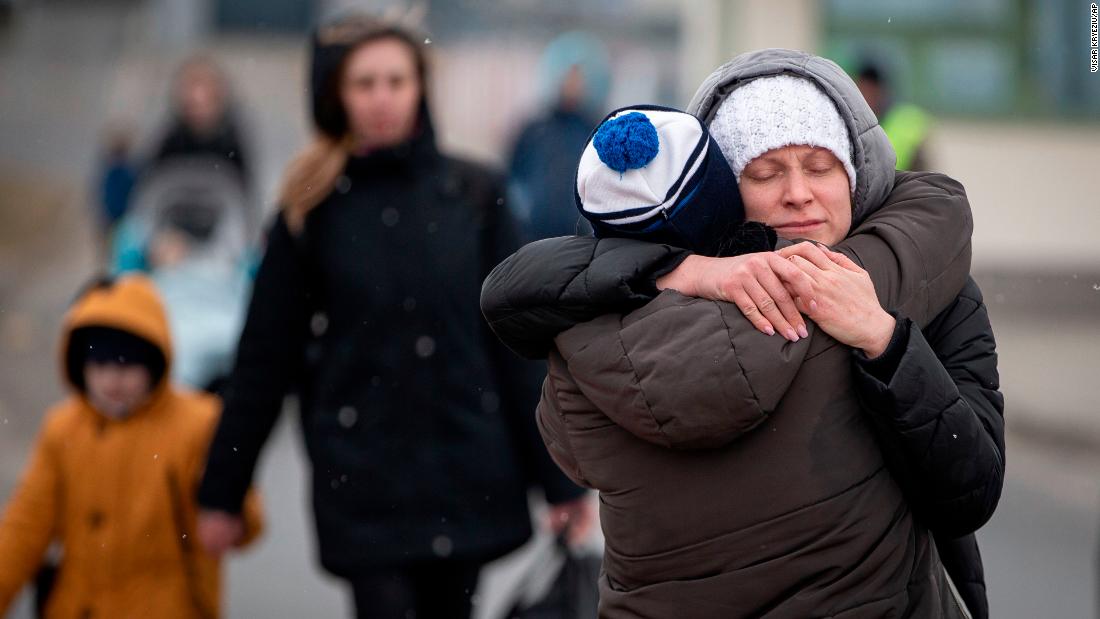 Nearly 5,000 Ukrainians have arrived in France and more are on the way, French official says
Ukrainian authorities said a long-awaited humanitarian aid convoy to the besieged city of Mariupol on the southern coast appeared to have come under fire.
Iryna Vereshchuk, Ukraine's Minister for the Reintegration of the Temporarily Occupied Territories, said on Tuesday: "Our humanitarian cargo is heading to Mariupol, and we are counting on Russia's commitments that it is ready to adhere to the ceasefire. . Russia is bombing the direction of the humanitarian convoy."
CNN was unable to verify the status of the convoy
Russia declared a ceasefire on Tuesday for five Ukrainian cities, including Mariupol.
Vereshchuk said the convoy – made up of eight trucks as well as more than 30 buses – left at 10 a.m. local time, heading for Mariupol from the Zaporizhzia region. It was planned to pick up people — especially women, children and the elderly — on the way back.
The Joint Operation of Ukrainian Forces (JFO) also provided an update on the convoy. On its Facebook page, the JFO said that to evacuate civilians from Mariupol, "the defenders of the city took a number of measures: they cleared the roads, removed the technical barriers, etc."
"However, the occupiers did not let children, women and the elderly out of town," the JFO said. "The enemy launched an attack precisely in the direction of the humanitarian corridor."
CNN contacted the Russian side for a response.
Residents of the key town of Mariupol have faced a deteriorating humanitarian situation in recent days as the town remains besieged by Russian forces determined to tighten their grip on southern Ukraine.
Ukrainian Foreign Minister Dmytro Kuleba said on Tuesday that Russian forces are committing war crimes by holding 300,000 civilians "hostage" in the besieged city of Mariupol. He said a child died of dehydration on Monday.
"People are now in their 10th day without water, without electricity, living in shelters, shelters are full to bursting. Essentials are missing, a lot of health care needs too," said spokesperson Mirella Hodeib of the International Committee of the Red Cross. told CNN, saying the situation in the city remained "desperate."
CNN's George Ramsay and Laura Smith-Spark contributed to this post.